If you haven't already then go home and watch episode 5 of Bridgerton now! If you've already fan-girled and screamed at the TV with "OMG OMG OMG" while your significant other who pretends not to like the show sits next to you eating all the popcorn, then keep on reading but don't say we didn't warn you if you haven't!
SPOILERS AHEAD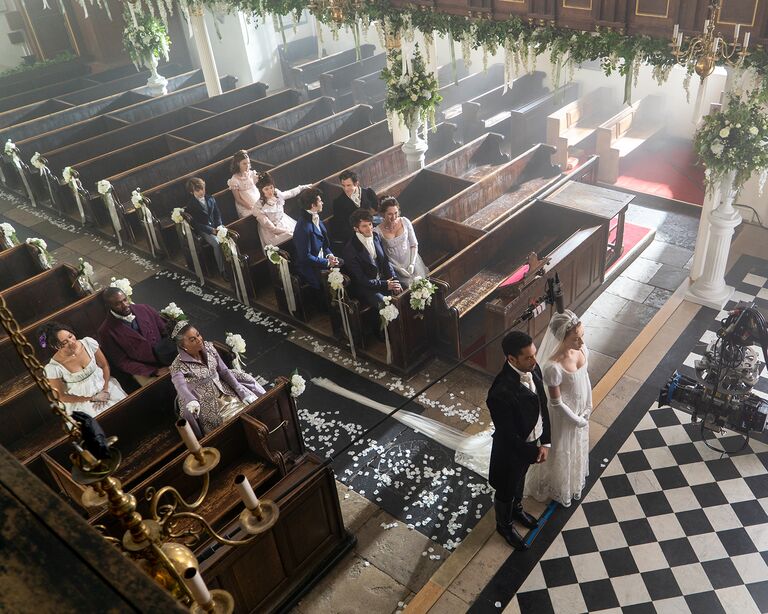 Let's start with the ceremony. Intimate, ethereal, romantic, are just a few ways to describe Simon Basset, The Duke of Hastings and Daphne Bridgerton's ceremony. So how can a couple re-create the look? Your guest count can be as small and intimate as Daphne's or as big and grand as real life Duchess of Sussex, Meghan Markle's because if you go back and watch the episode – what really made the ceremony venue was the greenery and simplicity of it all.  Although the camera panning to Rege-Jean Page as Simon Basset, the Duke of Hastings didn't hurt either but I digress.
The color scheme in this shot was a mix of blush tones and whites. Mix that with some hanging greenery around the chapel and BAM! You got a recipe for a worthy Instagram photo.
How do you recreate? Depending on your venue you may be able to hang some greenery along the walls with zip ties – check out what our September bride did for her wedding as she added a hanging floral arrangement to design her arch with smaller portions to arrange along her ceremony chairs and area. We've also seen couples add greenery and other floral pieces along our windows and pillars!  Need some design help? Ask one of our favorite Virginia Beach florists – Kelley Gish Florals!
As for the bridal party, The Bridgerton boys are seen wearing Navy and the girls are seen wearing a blush, which is a very popular color duo to do for any wedding!
Now, let's head over to the reception as we remember back to the suspenseful moment of "just talk already!" between the new Duchess, Daphne and her husband. If we recall correctly, you'll see a lot of the guests eating finger foods and small stations set up while they congratulated the newly wedded couple.
How to recreate it? STATIONS! Use stations as your main meal option as it'll give your guests an experience as the Chef prepares their dish right in front of them! Add some fig & brie crostini's for the cocktail hour, a guitarist or small band for music and BAM you got yourself a Bridgeton reception!